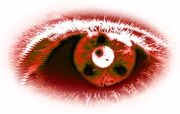 Welcome to BloodySpaghetti's page, and I hope you enjoy what you'll find here (I know my username is spelled wrong, but it's okay, we all like to a special little snowflake from time to time, don't we?
I shall be your content and discussions moderator for this site.
I've been writing since around 2012-2013, mostly focusing on the horror genre in general, but I've also written a few fantasy stories, poems and such. I like to tell a good story and come across one. affecting the psychology (being convincing) of the reader is a very important part of story telling and I have this annoying feeling that people don't even try to do that anymore.
Shame on you all!!!
Anywho, I really do hope you find my page worth of wasting your time upon.
May the Black Pegasus of the primordial chaos bless your souls.
My Favorite Pages
The Night I Met Satan
Styptic
The Birth of Insanity
Autopilot
Some no longer existent pages as well :(
Pieces Written by Me
Too many to recount here, you can always find my name listed in the categories of my pieces, or just look up my name in the categories page.
Feel free to ask for anything or just contact me to have a chat.
Ciao
Community content is available under
CC-BY-SA
unless otherwise noted.